Details
May help reduce fatigue and exhaustion. †
May exhibit Neuroprotective benefits. †
May help improve responses to stress. †
High potency natural adaptogen. †
---
Rhodiolife® Rhodiola Rosea 5/2 Powder
5% Rosavins. 1.8% Salidroside. Patented Extract.
What is Rhodiolife® Rhodiola Rosea 5/2?
Rhodiolife® is a uniquely standardized Rhodiola Rosea root extract wildcrafted in the mountainous regions of Siberia. This patented Rhodiola Rosea extract offers a uniquely unmatched quality profile, from growing to extraction and analysis.
Rhodiolife is produced by Nektium, one of the world's leading ingredient manufacturers of high-quality Rhodiola Rosea extracts. Nektium is one of a few select companies that are authorized by a special permit issued by the Russian Government to export Rhodiola Rosea from the pristine Altai Mountains in Siberia. 
Because of their extensive experience working with this particular ingredient, and their full control of the supply chain, the grade of Rhodiolife®'s bioactives is guaranteed every time. We're thrilled to be stocking Rhodiolife® in the UK!
How Does Rhodiolife® Work?
Rhodiolife® is a powerful adaptogen that produces a non-specific state of resistance in the body to physical, emotional or environmental stress. It has a normalizing effect on the body helping to restore normal physiologic function that has been altered by chronic stress and is therefore ideal to use to improve focus and energy.
The Primary Actives of Rhodiolife® Rhodiola Rosea
The adaptogenic activity of Rhodiolife® is attributed to the presence of four principal active ingredients: salidroside, rosin, rosavin and rosarin.
Rhodiolife®, like moany Rhodiola Rosea extracts, is standardized to the content of salidroside and rosavins. Rosavins are collectively made up of rosin, rosavin, and rosarin.
Publications indicate protection of muscle mass, reduced fatigue and stress resistance. Rhodiolife® has been studied in both in vitro and in vivo models, and it showed a significantly sustained increase in mental energy.
Rhodiolife® Rhodiola Rosea Benefits
Rapid onset: long lasting effect Rhodiolife® ingestion resulted in a rapid onset of stimulant activity, but with beneficial effects lasting for at least five hours. The EEG signature was very similar to the signature of Caffeine, Paullinia cupana, and Ginkgo biloba.¹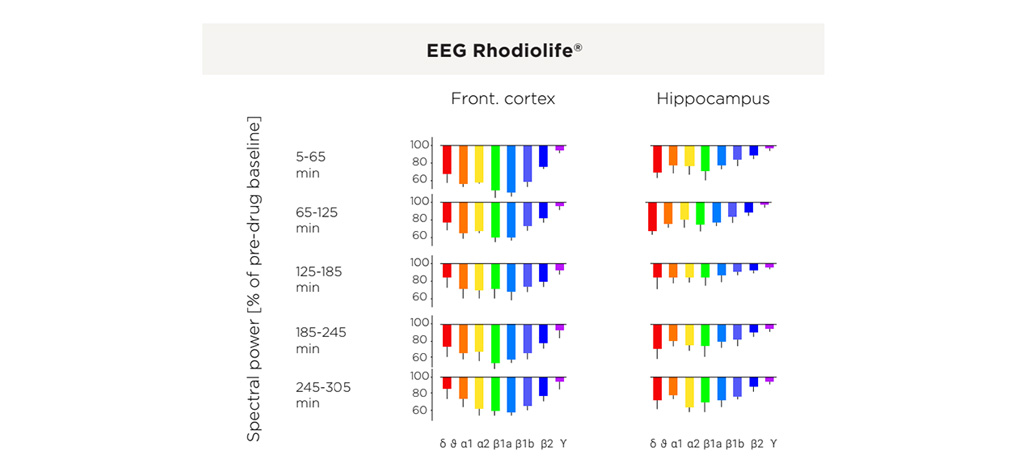 Memory: Rhodiolife® increases Long-Term Potentiation in the hippocampus, related to improvements in spatial and temporal memory.¹
Neuroprotection: The gene modulation profile showed a significant upregulation of 3 GPCR-genes, suggesting improvements in spatial and temporal memory.²
Where to buy Rhodiolife® Rhodiola Rosea Extract?
Rhodiolife® is now available from Mind Nutrition in the UK. This Rhodiolife® Rhodiola Rosea extract is standardized to 3% Rosavins and 1% Salidroside. Rhodiolife® 3/1 is available in quantities of 60 capsules at 250mg per capsule from Mind Nutrition.
References:
1. Dimpfel, W et al., Pharmacol. Pharm. 7, 290–303 (2016).
2. Zubeldia, J. et al., Food Stud. 2, 31–40 (2013).